This is my first time participating in Finish the Sentence Friday. I'm always looking for inspiration and look forward to future Fridays.
What I really want to scream out loud is…….
No, not to my kids; they're doing that far too quickly already.
I want to scream it at my ex and his girlfriend who can't seem to figure out how to resolve the issues that they are having with The Boy.

They are the adults here and need to take the first steps.

He's willing to try; now they just have to step up……... (yeah, I'm a little stressed about this; can you tell?)

This is getting dangerously close to bad-mouthing (or perhaps even a toe over the line) so I'll step away from this one now……. quietly backing away……
I want to scream it at the celebrities and quasi-celebrities who behave like juvenile delinquents with booze, drugs, lewd acts and just plain disrespectful behavior.

Unfortunately, as long as we, as a society, keep on giving them attention and making excuses for them, their behavior will not change.

I mean, really, Rob Ford, Toronto's drunken, crack-smoking mayor, was flown to Hollywood for the Oscars and an appearance on Jimmy Kimmel!

Nobody in the States would even know who he is if it weren't for his horrible, immature behavior.
I want to scream it at the trolls out there who think that it's okay to hide behind the anonymity of the internet and hurl abuse at others.

I've seen a couple of instances of it recently and it really boils my blood.

Don't get me wrong, I think that the internet is a great place to express ourselves and take part in lively discussion but when you use that as an opportunity to judge and insult others and just generally be rude, it's inexcusable.

If you don't agree with what someone has said on their blog, Facebook, Twitter, etc., a mature grown-up has two choices:

politely express your own opinion while respecting others' right to express theirs or just walk away.

There is a place for everybody on the internet.

If you don't like what you're reading, one simple mouse click takes it out of your sight.

I promise they won't chase you!
I want to scream it at the dumbasses on the road, who should never have been issued licenses, who believe that they are King of the Road.

Pedestrians have the right of way and are no competition for a couple of thousand pounds of steel.

Please be mature and don't make us play chicken with you.

It's a game we can't possibly win.
Let's all be mature grown-ups, play nicely with each other and be good role models.

It's really not all that hard.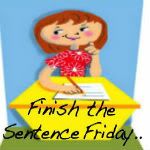 Kat