I have absolutely no interest in…….
….. drama!
There are some people who aren't happy if there isn't some form of drama in their lives.

We all have at least one of these people in our lives.

You know the ones; they are always on the "outs" with at least one person, always have something to complain about and never fail to regale you with tales of how some friend/family member/coworker/the world is trying to bring them down.

Their relationships tend to be fraught with tears and arguments.

They can be high-strung.

Conversations with them tend to be punctuated with a lot of "OMG, I can't believe he/she…..(fill in the blank)".

Overuse of exclamation marks in emails and texts is a warning sign too.

EVERYTHING they say is so important!!!!!
For the most part, I try to limit my time with those people because they tend to raise my blood pressure but also because it is so damned easy to get sucked into their drama vortex.

It's especially hard when it's someone you genuinely care about.

When they tell you about how so-an-so bad mouthed them or gave them attitude, you want to stand up and defend them.

When you hear about their financial woes, you want to loan them some money to get by on.
Thankfully, most of us who are now in our forties have learned some valuable lessons by now.

I've learned how to think critically and wonder what the other side of the story is before I give too much sympathy or let myself get swept up in the drama.
At least most of the time…..
There are those who can still sweep me up in their drama if they try hard enough.

People who have been in my life a long time.

People I care about.

I realized this recently when having dinner with someone I hadn't spent much time with in a while.

Sadly, it didn't take too much for my buttons to be hit in just the right way and there I was asking questions and letting my emotions run with it.
No matter how much any of us don't like drama, even the most level-headed of us can get caught up in it.

I think that it's just part of being human and, therefore, imperfect.

Remember, back in January, I said that my word of the year is "imperfection"; as in accepting my own imperfection?

Well, I won't beat myself up for letting myself get swept up in other people's drama once in a while.

I'll just do my best to not start it myself.

Not a bad compromise really.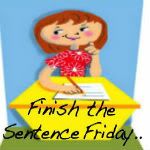 Kathy